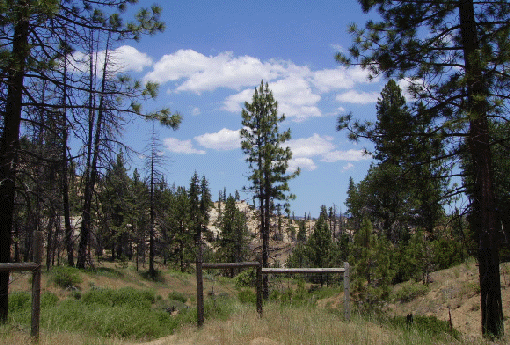 "The Editor's Vineyard--It was a great summer for outtings, picnics and wine"
by Joe Hilbers
Thorn Meadow is located in the Los Padres forest just about two hours drive from Los Angeles. It is little known and on this visit, like almost always, we met no one either at Half Moon Campground or our own special Thorn Meadow retreat.
Our picnic lunch offered such a variety that it required two different wines for our beverage. This left this Writer wondering why he is always the catering department on these outings. But the scenery, sandstone ridges with tall pine and cedar trees for variety, has always made this place very special Our wines were a Cycles Gladiator 2008 Central Coast Pinot Grigio, produced by Hahn Winemaker Paul Clifton. We sipped ours most contentedly enjoying the floral flavors and crispness on the palate. Our second wine was a 2008 Forest Glen Cabernet Sauvignon. Winemaker Ed Moody made this vintage in a Bordeaux style with hearty aroma and flavors but smooth tannins. Both these wines were in the $10 range and offered value. No one commented on my excellently prepared lunch.
Another day we went to the eastern range of the San Gabriels past the campgrounds on Blue Ridge and then for the truly adventurous the one lane rock strewn road that descends to the headwaters of San Gabriel river. Here there is another campground called Lupine. Jutting above is 8800 foot Pine Mountain and 10,000 foot Mt. Baldy. The forest here is truly spectacular with old stands of fir, cedar and pine.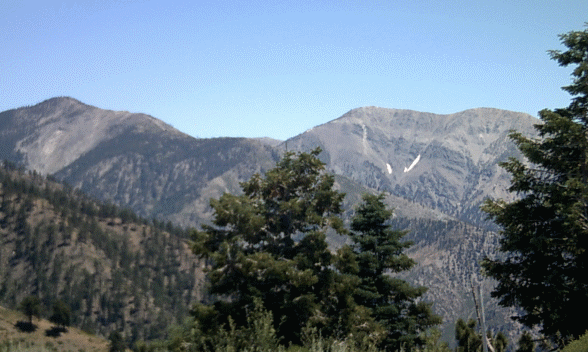 We explored the trailheads that lead into the Sheep Mountain Wilderness area as well as Lytle Creek to the south. We finally settled for lunch on Blue Ridge with views west to Pine and Iron Mountains and the San Gabriel gorge and east to the community of Wrghtwood, far below, and then the spread of the Mojave Desert. Our hungry crew went through the lunch cold box with a fury but settled into a 2008 Huntington Petite Sirah from the winemaking team of Kerry Damskey and Barry Gnekow . The wine is a blend of 76 per cent Petit Sirah and 34 per cent Syrah. We liked its aromas and flavors of spice and fruit and a surprising long finish. Our group then spread out with one exploring the Pacific Crest Trail and another to the nearby summit of Wright Peak. This Writer was content with the faraway views and the shade of a centuries old white fir tree.
Reyes Peak in Los Padres National Forest is an island in the sky with stately Jeffery pines and white fir and a perfect place for lounging and picnics.
Our selection of a 2008 Napa Ridge Sauvignon Blanc proved a perfect choice on a summer day when even at our elevation shade was most welcome.
At 12.5 per cent alcohol it was just the beverage to go with our tuna and chicken salad sandwiches and Rainier cherries. The wine offered its own mix of fruit flavors with just the right touch of crispness and acidity. We thought this Napa Valley vintage a great buy at $12.
Back to Table of Contents..
Last Update:12/1/10
&copy 2010 Joe Hilbers All Rights Reserved.
Graphic Design by Impact Graphics