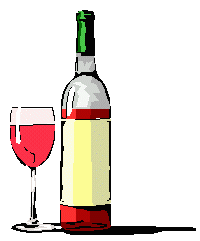 "Tobin James Paso Robles wines wow WINO members at dinner"

The Editor's Vineyard
.
We met Tobin James at a recent WINO dinner sponsored by Jeanne Bartlett. Tobin James has a downhome, country boy style that masks a very talented vintner and businessman. For several years now his Tasting Room in Paso Robles has been named the most popular and best in the County.
We were very impressed with the Tobin James wines we tasted that evening especially his 2005 Pinot Noir which he calls Pinot Envy. James explained that his wines are all selected from the region that fits the varietal best. This Pinot Noir was from the Arroyo Grande Valley and its flavors continued to open in the glass as our dinner progressed.
Our first course included his 2005 Sauvignon Blanc which was from Monterey County grapes and is called Sundance. James started this wine in stainless steel and then moved it to include some oak. As impressive as the Pinot Noir was his 2005 Zinfandel which he calls Ballistic. Classic to the varietal it offered much fruit with a long finish. Tobin James, in explaining his wines, had the sold out affair of 135 wine aficionados in constant laughter with his "one liners" that would make many a stand up comic envious. Our five course dinner, held at Eric's Restaurant in Thousand Oaks, ended with his 2005 Cabernet Sauvignon, also from Paso Robles grapes, and called Notorious. Tobin James Cellars is located at 8950 Union Road in Paso Robles. We have not yet been to his famed Tasting Room but we soon mean to change that.
Budget wines
For the budget minded Napa Ridge offers entry to the prestigious Napa Valley appellation with wines priced at the everyday level. 2005 Napa Ridge Napa Valley Sauvignon Blanc is a pleasant wine for either a cocktail or with dinner. There is a crispness on the palate and refreshing light finish. We shared a bottle with our pot of Chicken Cacciatore and served the rest at dinner.
Still on the move upward in popularity is California Syrah. Winemaker Bob Stashak has produced a good bottle of this varietal with the 2003 Napa Ridge Napa Valley Syrah. Tannins are soft, the fruit flavorful and the finish pleases with this wine. At $12 these wines offer a pleasant entry to new varietals and a prestige appellation. A most interesting wine (and label) is 2002 Uvada Merlot from the Napa Valley. The name means 'bountiful harvest' in Spanish and the label is also Spanish art deco. But there is more. Winemaker John McKay selected grapes from a single Oakville vineyard and then added five per cent Napa Valley cabernet sauvignon. The result is an excellent vintage of this popular varietal with rich flavors and aroma, yet with the smoothness and soft finish so typical of fine Merlots.
The wine is available from Uvada Wines at UvadaWines.com. Priced at $30 for that special occasion. Back to Table of Contents

Last Update:9/2/07
&copy 2007 Joe Hilbers All Rights Reserved.
Graphic Design by Impact Graphics