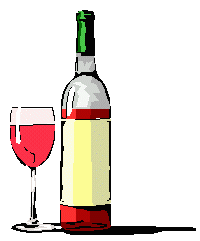 "Beverly Hills--Today's Bordeaux wines continue its reputation for superior vintages"
by The Editor's Vineyard
The fame of Bordeaux wines has extended over centuries and loving references to its Clarets can often be found in both English and American literature. This appreciation is shared by the Writer.
So the recent tasting of Bordeaux wines that took place at the Four Seasons Hotel in Beverly Hills was a must event for us. Entitled "Today's Bordeaux" the tasting was a showing of 100 classic, contemporary and affordable wines all priced from $8 to $30.
We have never made a secret of the fact that we truly enjoy Sauvignon Blanc and here we tasted some exception wines of this varietal. We especially liked La Grand Vin De Clossman 2006 blend which included Sauvignon Blanc, Semillon and Musadelle as well as the Barons De Rothschild 2006 Reserve which was 60 per cent Semillon and 40 per cent Sauvignon Blanc. From Graves was Chateau De Chantegrive 2006 blend again with Semillon and Sauvignon Blanc. All these wines were in the $15 price range.
With the red wines we first tried some of the classic Bordeaux blends. Some marked on our card included 2003 Chateau Teynac from Saint Julien, Chateau Teyssier 2005 from Saint Emilion and Chateau Tour De Calens 2002 from Graves. As impressive as the quality was the prices which were all in the $20 range.
After liberal helpings of the Four Seasons' wonderful appetizers we tasted two classic Sauternes--Chateau Haut-Bergeron 2004 and Chateau Lamourette 2003 and were once again reminded that no one makes Sauternes like Bordeaux winemakers.
Considering the way the dollar has tanked in recent months against the Euro we thought the Bordeaux wines tasted represented true value and quality.
Lake County wines
Lake County wines have never received the same degree of recognition as the neighboring counties of Napa and Sonoma. However it is a region and appellation that offers unique growing areas for vineyards especially those located at higher elevations above Clear Lake. These vineyards have always been renown for varietals like sauvignon blanc and cabernet sauvignon and wineries from other areas have long used fruit from Lake County.
All of which brings us to Hess 2007 Lake County Sauvignon Blanc. Both stainless steel and some neutral oak barrels were used in fermentation and the result is a wine well above the norm for this varietal. We have always considered Sauvignon Blanc as one of our favorite white wines and this one earns high marks. Whether it is the high elevation of the vineyards or the volcanic soils of the appellation or both but Sauvignon Blanc from Lake County offers distinct qualities.
Priced at $11 this single appellation wine is a winner both on the palate and the pocket book
Back to Table of Contents..
Last Update:6/1/08
&copy 2008 Joe Hilbers All Rights Reserved.
Graphic Design by Impact Graphics