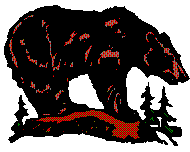 "The Beartooth"
A land of mountains, lakes, and meadows with unforgetable beauty .
Dividing northern Wyoming from Montana is a mountain range called the Absaroka. And in this range there is one monolith that to the Indians looked very much like the fang of a bear. So they called it the Beartooth.
Since then the country has seen trappers, miners, soldiers, sheep men and cattle ranchers and most recently people who come merely to enjoy its majestic beauty. But the name Beartooth has remained to identify the region till the present day.
In the 1930s the Federal Government built a road that goes from Cooke City, Montana at the northeast entrance to Yellowstone Park over the Beartooth to Red Lodge, Montana. Now called Highway 212 it crosses the border into Wyoming and then over the divide back into Montana.
The late Charles Karault called this highway "the most beautiful mountain road in America." Few if any who have traveled it will disagree.
Traveling west from Red Lodge the highway follows Rock Creek and a deeply glaciated canyon, then climbs in a series of switchbacks to open treeless plateaus and finally to first the east and then the west summits of the range. Both these summits are at 10.900 feet.
On top the traveler enjoys views of the surrounding mountains and the tundra plateaus with names like Hell Roaring and Froze to Death. And yes that rock pinnacle, the Bear's Tooth, which is the area's nameplace. As one descends from the west summit one lake after another comes into view. These lakes have names like Gardner, Long, Frozen, Losekamp, Stockade, and Little Bear.
This is not a high speed road. It was built in the 1930s for the cars of that era and has never been widened since. It is a road for viewing some majestic mountain scenery and the creatures that inhabit it.
This summer we watched mountain goats lazing on the open meadows and one lone cow moose wandering over the tundra. Here too you can view elk and marmots by the score. One unforgetable day a whole herd of Elk crossed a high ridge perfectly silhouetted against the skyline. A few years ago we saw a wolf still in its white winter coat sitting atop a snowfield viewing those strange two legged creatures. This is a road for picture taking and stopping to throw snowballs or make a snowman in the middle of August.
In July you will still see skiers and snowboarders, who can't get enough of their favorite sport, still at play.
This writer first viewed this land a quarter of a century ago and has been back every summer since. It is a land created for the hiker, fisherman, back packer, mountain climber and camper. Summer in this range meaning July and August. At the end of June many of these lakes still were partly covered with ice and the land showed more snow than grass. It is a place of fierce summer thunderstorms and hail and snow can be expected any month of the year.
On the west side of the range the land unfolds in a series of stunning meadows interspersed with copses of fir and limber pine. Once the snow has left the wild flowers appear, seemingly overnight, covering meadows and slopes in brilliant colors. First to arrive are the Claytonia or spring beauties that appear like magic as soon as the snow has melted.
Soon they are followed by Marsh marigolds, elephant heads, sky pilots and for-get-me-nots.
As you descend on the highway a sign will point to Island Lake. Here at 9500 feet there is a Forest Service Campground, Trailhead for the Absaroka wilderness and a boat ramp. It also offers a view of water, sky and mountain peaks that few who see it will ever forget.
There is still one more "must" stop on this highway and that is the road which ascends to the Clay Butte Forest Service Fire Lookout. Again there is a sign. This road takes you past seas of wildflowers, purple sky pilots and lupines and wild geraniums, and quickly ascends above timberline.
The Lookout is at 9900 feet and offers views in every direction. In summer the Lookout is manned by a Forest Service Volunteer who is there to answer questions and serve as a guide.
To the north one can view almost the whole length of the Absaroka Range including Granite Peak, at 12,799 feet the tallest in Montana. At the highest elevations this range maintains snow throughout the year.
To the west looking toward Cooke City and Yellowstone National Park there are two impressive peaks called Index and Pilot. To the east you can see Beartooth Lake, Beartooth pass and route you have just driven.
Looking south one sees Dead Indian Mountain and Pass which was once used by Chief Joseph. This the route he took in attempting to get his people to Canada and escape the pursuing U.S. Calvary. A highway that connects with Highway 212 follows this route and is now called the 'Chief Joseph Highway."
At this junction you have a choice. The Chief Joseph Highway takes you to Cody, Wyoming following first the course of Clark's Fork of the Yellowstone River, then over 10,000 foot Dead Indian Summit. On top you have views of the canyon of the Clark's Fork as well the South Absaroka Mountains and Sunlight Basin, first discovered by famous Mountain Man Jedediah Smith.
Highway 212 takes you into colorful Cooke City, Montana, then to Silver Gate and the Northeast entrance to Yellowstone Park.
Back to Table of Contents

Last Update:9/30/99
&copy 1999 Joe Hilbers All Rights Reserved.
Graphic Design by Impact Graphics