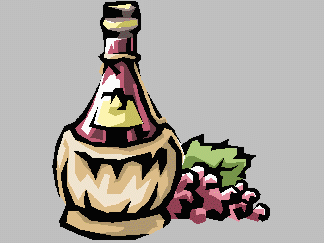 "Camarillo--At Bistro 13 think classic Italian cuisine"
by Jeanne Bartlett
In 1991 Camarillo got lucky, Bistro 13 came to town. Giovanni Tromba, already a successful restaurateur, opened a new restaurant dedicated to serving fine Italian cuisine with an emphasis on using fresh food products grown in the environs known as the Pleasant Valley. Growing up on a farm in Italy he believed that to produce the finest food he needed the freshest ingredients.
Giovanni is there to welcome you to his restaurant. Immediately you are made to feel like a welcome guest by the efficient staff. The tables are situated so that you look out the floor-to- ceiling windows at a park-like setting.
When you are presented with the menu, you find starters that range from cold antipasti such as Caesar Salad or a Caprese Tower, fresh mozzarella and tomato over shaved Prosciutto and basil leaves, with a balsamic glaze. If "hot" is what you are in the mood for, I can recommend either the Baked Brie and Roasted Garlic or the Calamari Fritte. The calamari comes to your table sizzling hot and smells so wonderful, you may have to share it with your companion.
For an entrée standout, there are choices of Ahi Tuna seared rare with ponzu glace served with parmesan risotto and seasoned vegetables, or choose salmon prepared in two different styles. A chicken option would be Pollo Gorgonzola, breast of chicken with Chardonnay wine in a gorgonzola and porcini cream sauce. The Risotto Calabria combines many ingredients: spicy Italian sausage, shrimp, chicken, Maui onions, and sundried tomatoes in a spicy cream sauce, tossed with Italian rice.
The fun part of the menu is the pasta and sauces. There are ten pastas listed, including the most identifiable, spaghetti, to the fusilli, which they let you know is the corkscrew shape. Next choose the sauce. Possibly you might want to order the Pignoli, diced chicken breast, pine nuts in garlic sundried tomato broth. Another delicious combination would be Napoli, a light tomato sauce with calamari, shrimp and cilantro. If that isn't enough, you can chose from the six special which are offered each day. Six dessert choices are available. Crème Brulee, tiramisu, and strawberry shortcake represent a sampling. The bread served with each meal is the same marvelous foccia I remember from years past at Tromba's previous resturant. The Chef de Cuisine is Tiziano Serra, who received his certification at the University on the Island of Sardinia.
The wine list has a large selection of Italian, red, and white wines by the glass. These wines, as well as sparkling wine, are available by the bottle. There is a full bar with imported and domestic beer. Wine tastings are offered once a month. The winery featured this coming month on June 19th, is Four Wines of Paso Robles.
All of the items on the menu are served for lunch and dinner with a choice of soup or salad to accompany your meal. Lunch is Monday thru Friday, 11:00 a.m. to 2:30 p.m. Dinner is Monday through Thursday 4:30 to 9:30 p.m., Friday and Saturday, 4:30 to 10 p.m. Sunday hours are 4:00 p.m. to 9:00 p.m. There is free off-street parking, 4910 Verdugo Way, Camarillo, phone 805.383.3388.
Back to Table of Contents..
Last Update:6/1/08
&copy 2008 Joe Hilbers All Rights Reserved.
Graphic Design by Impact Graphics