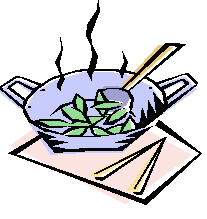 Santa Monica--"Typhoon shows Pacific Rim fare with great elan"
.
At Typhoon Restaurant Owner Brian Vidor has created an unique specialty cuisine featuring Asian foods of the Pacific Rim. It cannot be classified as being Chinese, Filipino, Korean or Indonesian but you will find dishes from these respective countries and others on the menu.
And an extensive menu it is with some 90 items. The restaurant is now well into its second decade and continues to please. There is that wonderful location adjacent to the Administration Building on the south side of Santa Monica Airport with its view of the main runway. The large picture windows for viewing the comings and goings of private jets make for a unique decor and ambiance.
A wonderfully stocked full service bar that is a local watering hole filled with friendly folk completes a scene which brings people of all ages back to the restaurant again and again. The bar also shows one of the largest selections of single malt Scotches in the region. With such a large, completely diverse menu it takes many visits to taste the dishes from such a variety of Asian countries.
On our most recent visit we opened with stir fried minced chicken with pine nuts served with steamed Bao or lettuce cup and a black bean dipping sauce Actually my dining partner and I tried it with both. Also Shrimp Shu-Mai dim sum, which are streamed shrimp dumplings and a great favorite of ours.
In our usual subdued fashion we passed on the Manchurian Ants sprinkled on potato strings or the white sea worms served Thai style. Instead we moved on to Mongolian beef with sesame buns, the House chicken Chow Mein and a very tasty stir fried Taiwanese style egg plant with garlic, chili and Asian basil. Portions are large at Typhoon and indeed my Partner had a bag of goodies to take home.
Other tasty sounding dishes included Gyoza, Japanese style pot stickers; Thai style garlic short ribs; or the whole catfish deep fried with a Szechuan sauce.
We chatted briefly with General Manager Jack Griffith to compliment him on the friendly atmosphere that prevails at Typhoon as well as the efficiency of the service and the quality shown in the exhibition kitchen.
The wine list continues the Pacific Rim theme with vintages like Glenguin Chardonnay from Australia, Kerner Estate Pinot Gris from New Zealand, Sena Cabernet Sauvignon from Chile and Martinborough Pinot noir from New Zealand. There are also beers from most of the Asian countries as well as a variety of Sakes.
Typhoon is located at 3221 Donald Duglas Loop South in the Administration building on the south side of the airport and offers free off-street parking and an elevator to its second story view location. The restaurant is open for luncheon from noon to 3 p.m. and dinner seven nights a week from 5:30 p.m. Call 310 390-6565 for reservations.
Back to Table of Contents..
Last Update:9/15/03
&copy 2003 Joe Hilbers All Rights Reserved.
Graphic Design by Impact Graphics