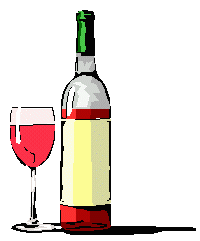 "Marketing demands creating some most unusual names on wine labels"
.By The Editor's Vineyard
When looking at wine labels these days it is obvious that the marketing people have taken over. Strange names for wine labels now seem to be all about. We point to the Assies for starting this trend and with their current domestic wine glut they do have motivation.
We have given some thought to this trend and have come up with some suggestions for sports minded wine labels. How about Half Pipe Pinot Grigio to appeal to the Snowboarders, or Big Curl Chardonnay for surfers on the beach. Then we could have Camp Six Pinot Noir for mountain climbers or Road Kill Cabernet Sauvignon for bikers. The description of these wines should make for interesting reading.
With this trend our sympathies really go out to the winemaker. Here he or she is spending all summer wondering about the quality of the grape harvest, then the hectic crush, and the decisions on fermentation, barrel aging, etc. And finally the proudly finished product destined to be marketed as 2004 Gangbanger Syrah.
I am afraid this Writer still clings to the traditional. We prefer names like 2003 Domaine Le Contessa Raymonde Chardonnay or perhaps a Jofeph Gerhart 2004 Mosel Piesporter, or if trendy, how about a California 2005 Moonglow Sauvignon Blanc.
Napa Appellation
Two Reserve Napa Valley appellation wines have been released by Winemaker Bob Stashak of Napa Ridge Winery. The 2003 Napa Ridge Reserve Cabernet Sauvignon has all the marks of this appellation with varied flavors in both aroma and texture. The tannins are soft, the finish lasts and the palate pleases with its 13.6 per cent alcohol. Just as pleasing is the $20 price tag for a wine with all the character of Napa cabernet sauvignons.
Also released the 2003 Napa Ridge Reserve Merlot from the Napa appellation. This wine is very true to the varietal showing all the fruit flavors married in the soft structure and low tannins one expects of Merlot. Again priced at $20 it should be a proud addition to any dinner table.
A tip of the hat to Winemaker Ed Moody who likes to introduce distinctive varietals to his Forest Glen label. Both Malbec and Cabernet Franc are varietals used extensively in the chateaux styled wines of Bordeaux but have been used spareingly by most California winemaker except in blends.. Here is the opportunity to try these varietals and best of all with no great expenditure.
The Forest Glen 2003 Malbec has enjoyed a year in American oak and offers unique flavors and a finish that satisfies. At 12.3 per cent alcohol it offers a mild flavorful wine that will go good with almost anything at the dinner table.
It you like a lighter red wine then try the Forest Glen 2003 Cabernet Franc. The flavors are there but with a soft palate and smooth finish. At 12.8 per cent alcohol a wine that will go well with light suppers and picnic fare. Both these wines are priced at $10.
Back to Table of Contents

Last Update:13/1/07
&copy 2007 Joe Hilbers All Rights Reserved.
Graphic Design by Impact Graphics