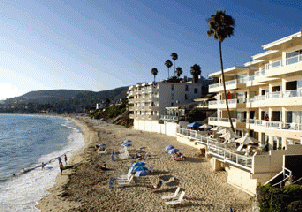 Laguna Beach--Vacation Village proved to be a great starting point for interesting adventures"
By The Editor

In the San Fernando Valley the temperature was hovering at 100 degrees two days in a row so it was time to find a beach. And find one we did at the Vacation Village Hotel in Laguna Beach.
The Vacation Village is the type of place where you want to stay awhile. Leave your car parked at the hotel and either lounge on the beach at your doorstep or wander afoot in this colorful arts centered community. For at Vacation Village it is location, location, location.
A short walk, either along the beach or on South Coast Highway puts you in downtown with its arts and crafts shops, galleries as well as the Laguna Art Museum and Laguna Playhouse.
This Writer settled in a splendid suite with ocean view and all amenities including a complete kitchen and a balcony for lounging. We found leaving our suite, with our own private bit of the Pacific Ocean, hard to do. Adding to the comfortable feel of Vacation Village is the joy of having a place to leave your car without concern. If there is one thing that mars the beauty and enjoyment of Laguna Beach it is the 'parking problem'.
The idea of sitting on our balcony sipping a glass of chardonnay and watching the girls go by was most enticing. But then we thought of being back at our computer with a sour faced, grumpy editor saying "What did you do down there?". Ours was not to rest but to find some interesting places to write about. At the hotel we did notice license plates from near and far and that the comfortable atmosphere of the illage kept most of my fellow guests close to the hotel to enjoy the beach scene, two swimming pools and a jacuzzi which was always well populated. Somehow beaches and children really are a match and there was no shortage of families during our stay.
However for us it was time for pencil and notepad so we were off to drive inland on Laguna Canyon Road where we made a wonderful discovery.
This was Laguna Coast Wilderness Park and its James and Rosemary Nix Nature Center. The Park was only dedicated late last year and the Nature Center had just been open six weeks. At the new Nature Center we met with Office technician Dina DuVall and Park Ranger Laura Cohen who gave us a personal tour of the premises.. This Park with its 6,600 acres is a monument to dedicated people in Laguna Beach who strived for many years to preserve this region of the Santa Ana mountains in its natural state for recreational use.
It joins several other marine preserves in the area including Aliso and Wood Canyon Park as well as Crystal Cove State Park for a total of 20,000 acres.
The Nix Center has been carefully designed to serve the Park and shows throughout the talents of Laguna Beach artists. Inside are beautiful oil paintings of scenes in the Park and there is a replica of the countryside at each trailhead. This area of Orange county is all an ancient seabed of the Miocene era, 90 million years ago and fossils of marine life are plentiful and faithfully reproduced at the Center.
The Laguna Coast Wilderness and the Nix Center are open daily from 9 a.m. to 4 p.m. There is a $3 parking fee. For more information check www.lagunacanyon.org or call 949 923-2335.
Add wine tasting to the many activities located in Laguna Beach. Naturally we had to stop and visit the Laguna Canyon Winery. This is a team effort of brothers Marlowe and Darren Huber, with Darren as winemaker. At Laguna Canyon, grapes are sourced from small vineyards in Paso Robles, Sonoma, Napa and the Pacific Northwest appellations.
Marlowe Huber explained to this Writer how each wine is hand crafted using French, American and Hungarian barrels and that typically most of their wines are blended for superior balance and character. With its handsome tasting room and winery located at 2133 Laguna Canyon Road, just five minutes from town center, it is a must for tasting and purchasing wines.
The Hubers are producing a large number of varietals--reds like Carneros Pinot Noir, a meritage from Paso Robles and Napa as well as a Sangiovese from Sonoma and Zinfandel from Mendocino. Whites include two chardonnays, one from Monterey, the second from Lodi, as well as a riesling from Sonoma to name a few of the winery's many wines.
Laguna Canyon Winery is located at 2133 Laguna Canyon Road, open Tuesday through Sunday from 11 am. to 6 p.m., closed Mondays. There is ample off street parking. For more information call 949 715-wine, on the web at wwwlagunacaynonwines.com.
Back at Vacation Village we got a tour of Pacific Edge, a seaside Cape Cod styled "cottage" which is part of the property. We don't know if cottage is the right word for a home with three levels, two fireplaces, a wine cellar, open beamed ceilings and accommodations for larger families or private groups. All of which looks out to the beach a step away. Oh and it also includes three private garages.
The Vacation Village Hotel is located at 647 South Coast Hwy in Laguna Beach. Reservations by phone 1 800 843-6895 or on the web at www.vacationvillage.com
Adjacent to the Village is The Beach House, a restaurant that has been a part of the Laguna Beach scene since 1968. We enjoyed lunch there one day with views of the ocean. It is open for breakfast, lunch and dinner featuring an interesting American menu. The address is 619 Sleepy Hollow Lane and there is valet parking.
One evening we just had to visit our all time favorite Chinese restaurant, The Golden Dragon in Costa Mesa Recently the Golden Dragon received the Golden Sceptre Award from the Southern California Restaurant Writers, the highest award possible and the first to ever be given a Chinese restaurant.
We congratulated Manager John Wang and got a hug from his Mom, Chi-Yun Wang. Then settled into some truly fine dining with a hot and sour soup with shrimp, Walnut chicken, string bean beef and their very special house fried rice with shrimp, pork, mushroom and shredded vegetables. Unlike most Chinese restaurants Manager John Wang has put together an outstanding wine list and my dining partner cooperated with glasses of chardonnay and pinot grigio.
The fame of the Golden Dragon brings people from all the beach cities surrounding Costa Mesa. For here is classic Chinese dining with a serene atmosphere and decor, outstanding cuisine and attentive attention from a well trained staff, many with years of experience at the restaurant.
Golden Dragon is located at 2023 Harbor Blvd., in Costa Mesa with ample off street free parking. The restaurant is open for lunch and dinner seven days a week, lunch starting at 11;30 a.m. to 3 p.m. Monday through Friday. Dinner from 4:30 to 10 p.m. On weekends the restaurant is open all day from 11:30 a.m. to 10 p.m. For reservations call 949 542-7162.
Back to Table of Contents..
Last Update:6/1/07
&copy 2007 Joe Hilbers All Rights Reserved.
Graphic Design by Impact Graphics