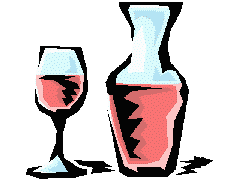 Winemakers Are Looking at and Making New Varietals
Some time back we pointed to the fact that many of California's winemakers were moving on to new varietals and much to our delight it has happened. The days of just chardonnay and cabernet sauvignon are over.
Merlot has, of course, conquered all and continues to increase in popularity to the point that it is sometimes in short supply. Geyser Peak has two new exciting vintages, one its 1994 Sonoma county Merlot which with 13 per cent cabernet sauvignon and some Cabernet Franc and Petit Verdot becomes an outstanding wine ready to enjoy with a smoothness that completely masks its 13.3 alcohol content.
For a long time the best Shiraz was coming from Australia but the new Geyser Peak 1994 Shiraz from grapes grown in the Alexander Valley shows that the Australians have no monopoly on producing this varietal with outstanding quality. This wine is full of flavors and we appreciated the soft character the American oak aging has given this vintage.
Venezia has been added as another brand by Geyser Peak and two vintages have been released both made by Winemakers Daryl Groom and Mick Schroeter. One is Venezia 1995 Chardonnay produced from a single vineyard in the Stags Leap district of Napa Valley that has been farmed by one family for many years. The wine is exceptional and stands out even with so many Napa chardonnays available. There is a hint of oak here but it does not mask the true varietal character and intense nose.
Again moving away from the traditional Venezia's second release is 1995 Sangiovese Nuovo Mondo. This is an unusual blending of Sangiovese and Shiraz, new to our experience. The varietals were vinified separately and blended before barrel aging which was mostly in French puncheons. This wine is very drinkable now but we have the feeling that it will age very well. This wine has loads of body but still maintains a softness on the palate.
It does not seem possible but Bonterra, the organically grown wines launched by Fetzer, is now five years along. New winemaker is Robert Blue who has been with Fetzer since 1988. Bonterra continues its success with two new releases including a 1994 Cabernet sauvignon. This wine is 86 per cent cabernet sauvignon and 14 per cent Syrah, all made from organically grown grapes from Mendocino county. Soft, smooth, velvety are words that describe this wine which was aged in new and used American oak barrels for 14 months. Credit the Syrah and the American oak for making this wine so elegant on the palate.
We continue to admire Fetzer for being able to produce superior wines at moderate prices. Their newest Barrel Select vintages are no exception. Pinot Noir is not the favorite varietal for California winemakers and with good reason. But the 1994 Fetzer Pinto Noir from grapes grown in Carneros and the Russian River areas has produced a very pleasant and drinkable wine and at a very good price. It was aged in French oak barrels for 11 months and really shows true varietal character.
Another release in this series is the 1995 Sauvignon Blanc and we thoroughly enjoyed this as a dinner wine. It offers clean, crisp flavors and will not dominate over the foods. The Sauvignon blanc was blended with some semillon, voignier and chardonnay and aged in American oak barrels that are now being produced at the Fetzer cooperage. JGH
Back to Table of Contents..
Last Update:3/15/97
&copy 1997 Joe Hilbers All Rights Reserved.
Graphic Design by Impact Graphics