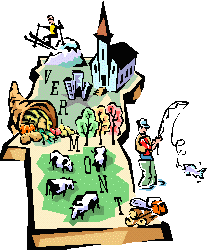 "An Idyllic Inn and Ski Trails in Vermont"

by Mel and Ronnie Greenberg
Winter takes on a magnificence in Vermont with a special blend of white-cloaked meadows, and scenic farms and villages blanketed in an abundance of snow. Rural untamed landscape is encased by iridescent skies and crisp mountain air. Trails link quiet lakes and ponds as snow-laden pine boughs glow in the intense sparkle of a winter sun.
Awed by the beauty of the season, this magical transformation, nothing less then spectacular, lures you to the town of Goshen and the quintessential charming Blueberry Hill Inn. Set on an enchanted forest byway, Blueberry Hill Inn is situated in idyllic isolation in the heart of the poetic hills of the Green Mountains.
The Country Inn presides over its own 120 acres of forest, woodlands, trails, lakes, ponds, and alpine terrain. Groomed and wilderness cross country ski trails spread across the beautiful countryside with connections to Catamount Trail and Vermont's Long Trail. The property is surrounded by 22,000 acres of Moosalamoo, a hallowed nature preserve. Blueberry Hill Inn comprises the lovingly restored 1813 main house, a wood frame clapboard structure which has had a modern wing appended, comprising eleven guest rooms. Inside is a glassed in common area called the greenhouse, heavily windowed with brick flooring and numerous plants. Rooms reminiscent of home for all to enjoy, with comfortable seating, a warming fire in the hearth, and strains of laughter and merriment emanating from one of a dozen cozy niches throughout the inn. In addition to the main house, there is a separate Cottage, comprising one bedroom, bath and living space; the Cross Country Skiing Center, a barn-style building which houses skiing equipment; and the building containing the wood-fired sauna.
The culinary milieu at Blueberry Hill is beguiling. A perfect retreat for epicures. Throughout the day, enticing kitchen aromas whet the appetite for a nourishing and memorable breakfast, with rich dark coffee, fresh baked pastries, and renowned Inn chocolate chip cookies
As the sun heads westward, guests converge in the greenhouse to uncork wine and delve into evening hors d'oeuvres, before the evening repast. The welcoming romantic, atmospheric dining room, hung with herbs and dried flowers, has tables set with fine linen, china and crystal, alongside a crackling fire. The evening meal is a sumptuous, four-course dinner, artfully prepared and presented and decidedly unhurried. Entrees include such favorites as Lobster & Crab Ravioli with Roasted Garlic Cream Sauce, and Beef Tenderloin with Irish Whiskey Sauce, and Roasted Red Pepper Coulis.
Innkeeper Tony Clark, a Welshman, was raised in Bordeaux, France, where his wine merchant father imbued him early with the trappings of the good life. Fine wines and cuisine, the company of bon vivants and precocious nature nurtured Clark for the incomparable experience Blueberry Hill offers its guests. From warming welcomes to wistful adieus, guests come and go, but no one leaves Blueberry Hill unmoved. Tony's wife, Shari Brown, Innkeeper and resident botanist, is Blueberry's "earth mother."
The Inn's salad greens, 50 varieties of culinary and 25 varieties of medicinal herbs, and perennial fall under Shari's watchful eye. She is also responsible for the Inn's new greenhouse plantings, extensive gardens, and the wonderful line of Inn-made herbal body lotions, bath salts and calendula hand creams.
This incomparable experience has kept guests returning for more than a quarter century.
Route 73 in this region passes through many stunning "gaps." Views of tidy New England homes and tranquil meadows appear as the road passes into the Green Mountain National Forest and skirts Mount Horrid (3,126 feet) before it reaches Brandon Gap (2,170 feet). From this perspective there is an outstanding view of the Champlain Valley and the Adirondack Mountains in the distance. Descending west through Brandon Gap, is the town of Brandon.
At Blueberry Hill each guest room features a private bath, imaginative and artistic decor and is fashioned in country style with warm touches, handmade quilts and a smattering of period furniture and reproductions.
There are no televisions or telephones to distract guests from Blueberry Hill's old world charm and grand Vermont hospitality. A splendid full breakfast, hors d'oeuvres served each evening and haute cuisine dining are included in the rate. The inn does not possess a liquor license, guests desiring wines are encouraged to bring a selection along with them.
Prices per person per night including breakfast & dinner, exclusive of taxes and service charges. Blueberry Hill Inn is RR (Rural Route) 3, Forest Service Road #32, Goshen Vermont 05733. Telephone: 800/448-0707 or 802-247-6735 or visit them on their website at www.blueberryhillinn.com
Back to Table of Contents..
Last Update:4/1/01
&copy 2001 Joe Hilbers All Rights Reserved.
Graphic Design by Impact Graphics