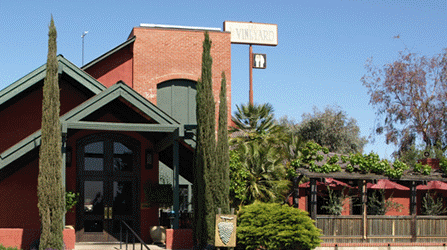 "Madera--The Vineyard Restaurant celebrates 30 years of fine dining"
by The Editor
We always greet finding another good restaurant as a discovery. This is how we felt when we arrived at the Vineyard Restaurant in Madera. Of course our ' discovery' was a little late in coming since three generations of the Mariscotti family have operated it, now with a 30th anniversary year..
We were there to meet Michael Leven, president of the Madera Vintners Association and KC Pomering, Association executive secretary to learn about the Madera Wine Trail.
The Vineyard Restaurant and Bar shows a classic American menu. Thanks to a knowledgeable suggestion we ordered the Braised lamb shank, a specialty of the restaurant. It lived up to its reputation and then some, arriving on huge plate, the lamb shank surrounded by veggies, potatoes and a Zinfandel based sauce. It was one of the best we have ever enjoyed.
The dinner menu shows a full line of steaks as well as several innovative pasta dishes. There is also a selection of daily specials.
We did meet Christopher Mariscotti of the family briefly and had the opportunity to tell him we were impressed with The Vineyard.
It was explained that farmer appetites prevail here so all portions are very much on the generous size. Decor, ambiance and culinary skills all come together at the Vineyard. The wine list is large and there is a good selection of locally produced Madera wines, each specialty designated with a small bottle illustration next to its listing; a clever idea which we thought could be used by other restaurants as well.
The Vineyard Restaurant is located at 605 South I Street, Madera, Ca. Telephone 559 674-0923, web www.vineyardrestuarant .com.
Back to Table of Contents..
Last Update:12/9/08
&copy 2008 Joe Hilbers All Rights Reserved.
Graphic Design by Impact Graphics