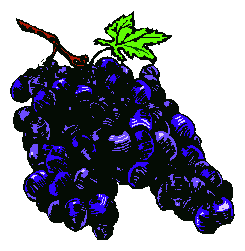 "Forget vin ordinaire', Now everyday wines offer real value while premim wines are reaching every new heights in quality"

"By the Editor's Vineyard"
"Vin Ordinaire" are the French words for describing plain, ordinary, everyday wines, often of mediocre quality.
For today's American wine drinker they no longer have any meaning. For the simple reason that such wines can no longer make it in the marketplace. In the past two decades the quality of domestic wines has increased so rapidly that today for the American wine drinker "vin ordinare" no longer exists.
Foreign vintners learned long ago that their products had to be of superior quality to even have a chance to compete in the American marketplace.
And this competition toward better and better wines has never stopped but continues at an ever increasing pace. This is not to say superior wines were not being made a quarter of a century ago, but that the overall quality has increased at an unbelievable rate.
This fact is brought home to this writer every time he attends a tasting or opens a bottle of wine at home.
When this writer was a judge at a Italian Wine Competition in Torgiano some Italian judges, noting the scores I was giving some of the vintages, said I had a California palate adding that California wines generally speaking were more aromatic and fruity. The word they used was flowery.
Certainly it was a true assessment. Pinot Grigio is an Italian varietal from the northeastern part of that country. Many have steely, flinty qualities which do not suit this writer's palate. But this varietal when grown in Oregon and Washington State takes on a completely different character.
We recently tasted Pepi 2000 Pinot Grigio from the Willamette Valley in Oregon and thought it outstanding. The grape does like cooler growing regions like Oregon and Washington. This vintage was crisp on the palate but with nice fruit flavors, well balanced and a clean finish.
Also under the Pepi label we tasted the 1998 Colline di Sassi from the Napa Valley. Previous vintages of this wine have won gold awards and this one could too. Tuscany in style the wine is 45 per cent Sangiovese, 19 per cent cabernet sauvignon and 18 per merlot. At 14.7 per cent it is unusually high in alcohol.
This wine has two full years in French oak and unfiltered. No one flavor seems to dominate yet the result is a classic red wine that can best be described as big in every sense.
Good California Pinot Noirs tend to have higher price tags and most French burgundies prices have gone through the roof. So it was with some interest when we opened a bottle of Camelot 2000 Pinot Noir noting that it was priced under $10. Pleasant surprise both to the pocketbook and the palate.
The grapes are from Mendocino and Carneros, cooler regions ideal for growing this difficult varietal. Winemaker Michael Leven has unusual expertise in blending and this wine includes 86 per cent pinot noir, 6 per cent petite sirah and 4 per cent merlot. The result a pleasant wine ready to drink now with bright flavors very much in a Burgundian style.
More Australian wines continue to show in the American market. Yangarra Park is the Australian venture of Kendall Jackson. The four varietals, all 2000 vintage, include Chardonnay, Merlot, Cabernet Sauvignon and Shiraz. All are priced at $10.
Yangarra in Australian aboriginal lore means Earth. A fitting name since Peter Fraser, the Australian winemaker responsible for the wines believes in blending his wines from different regions seeking the best terroir for each varietal in each region.
We first tasted the Shiraz and liked the wine for its abundant flavors and long finish. A bargain in its price range. All of Peter Frazer's first releases are 100 per cent of the varietal. The blending comes from reaching to different appellations for the grapes.
Cucamonga Valley in Southern California, once a thriving pioneer wine growing area, has given way to urban development but some old vines still remain. So for its Block Collection Zinfandel Geyser Peak found some of the oldest vines of this varietal at the Galleano's Ranch in Cucamonga. The 1999 vintage just released can be called a "block buster" (sorry about that) but we found the wine a delight: intense, loaded with flavors and an immense palate.
The Block Collection 2000 Viognier is from grapes grown in one vineyard in the Alexander Valley. This French immigrant from the Rhone Valley does well in California. French vintners often used this varietal for blending but here in California winemakers are using this grape to make some very exciting white wines, soft but with an aromatic nose, a clean finish and complex favors. This Geyser Peak bottling is a winner. Both these Block wines are under $20.
The Aussies are fond of blending sauvignon blanc with semillon but not as often among California winemakers. However Winemaker Randall Watkins at
Carmenet has used the two varietals grown in the Edna Valley to produce an outstanding 2000 vintage. We liked the aromas of fruit shown here both in the nose and on the palate. Crisp but soft on the tongue this is a very pleasant food wine. Carmenet has also released two of its special vineyard wines under the Dynamite label. Quite frankly we like the wines much better than the name. The 1999 North Coast Merlot is a winner. With 12 per cent cabernet sauvignon it has exceptional body and while a joy to drink now can truly be remarkable with more bottle aging.
The 1999 Cabernet Sauvignon again is from grapes selected from hillside sites in the North Coast. This is a bold cabernet at first sip but mellows remarkably on the palate. Winemaker Watkins has softened this vintage by blending 18 per cent merlot, 4 per cent cabernet franc and one per cent zinfandel.
Trinchero has released two carefully crafted super premium wines by Winemaker Derek Holstein. Under the Mario's Reserve label they include a 1999 Reserve Napa Valley Chardonnay and a 1998 Reserve Napa Valley Cabernet Sauvignon.
These are premium wines and are priced as such. The Cabernet Sauvignon is elegant after mellowing with 26 months of aging in all new American and French oak barrels. Lush flavors abound in this vintage and while now most drinkable should be considered as a cellar wine for later in the decade.
The Chardonnay is also an exceptional vintage. Styled like the best wines of this varietal in Burgundy it spent seven months in new French oak and then a full year of bottle aging. Toasty oak and fruit aromas are the prelude to buttery flavors and a long finish.
As we stated earlier in this report in the Rhone Valley French vintners traditionally use Viognier as a blending wine. Winemaker Douglas Danielak of Jade Mountain used this approach in his 1999 bottling of a Napa Valley Syrah. Three per cent Viognier was added to the Syrah which then spent 20 months in French oak.
The result is a very drinkable Syrah that should also age well. We thought it a very good example of this varietal.
Fetzer's Valley Oaks wines continue their winning ways with a fine mix of quality and price. Three new releases continue this trend, all priced at the $10 mark. The 1999 Cabernet Sauvignon shows excellent body and a full variety of flavors in both aroma and to the palate.
We always taste Zinfandels since it was the favored grape used by my Grandfather and Father when they made their own wine eons ago.
The 1999 Valley Oaks Zinfandel is true to the varietal and perhaps shows more body thanks to 18 per cent Syrah added to the blend. Just right with a caesar salad and a huge bowl of pasta. That's how we 'tasted' our bottle.
It has taken awhile but Monterey County is finally realizing its distiny as a region for premium vintages. And one of the leaders responsible for this upgraded image is Rick Boyer, winemaker for Jekel Vineyards. His Gravelstone chardonnay is consistently a winner and the 2000 vintage lives up to its reputation. We thought it a bold chardonnay with unmasked flavors and a crispness that stands out.
Its nice to note that Winemaker Boyer is still increasing the number of his varietals. We liked the 1999 Monterey Syrah. We found it soft yet full on the palate and with the characteristics that are making this varietal ever more popular in the marketplace.
Monterey has always produced excellent rieslings and we especially liked Boyer's 2000 Jekel Riesling. Nice muted flavors, mellow aroma and just right to enjoy with light fare or on a picnic. We "tasted" our bottle on the patio of Mountain High Resort after a morning of skiing. Good value in the $10 range.
It has been a decade since we visited Acacia in Carneros. But we are happy to note that the wines continue to excel. Winemaker Michael Terrien has released Acacia 2000 Carneros Chardonnay and it is a superior vintage. We thought it best served as a cocktail wine with its cream like texture, bold nose and rich hint of oak.
The Acacia 2000 Pinot Noir is again from Carneros vines and 100 per cent of the varietal. Lots of flavor in this vintage, a silky smoothness on the palate and a lasting finish.
Winemaker Mick Schroeter at Geyser Peak used fruit from two hillside vineyards in Sonoma county to produce the 1998 Geyser Peak Reserve Cabernet Sauvignon. This is a rich, complex bottle of wine, unfiltered and with concentrated flavors. This wine is a 'keeper' for the private cellar. It should have a sensational future. Priced as a special occasion wine.
With Geyser Peak's Australian connection we would expect a superior Shiraz. and we believe the 1999 Sonoma Shiraz is just that. Grapes from Dry Creek, Russian River and Alexander Valley are all represented in this vintage which has four per cent Cabernet Sauvignon added. This vintage shows Shiraz characteristics of mellow flavors and soft palate and finish very well. Priced under $20.
Schroeter and co-winemaker Daryl Groom raced the clock to produce and release the 2001 Geyser Peak Sauvignon Blanc. Cold fermented for three weeks in stainless steel, the wine was immediately bottled. Call this wine fresh but it is also shows lots of varietal fruit flavors and a nice finish.
Kendall-Jackson launched the Collage label for the overseas market but the brand has established itself in the U.S. as well. The Collage wines are blends of more than one varietal using a technique that has been most successfully used by Australian winemakers. Newest releases include the 2000 Cabernet Sauvignon-Merlot and the 2000 Cabernet-Shiraz. Also a 1999 Zinfandel-Shiraz bottling.
Naturally we tried the Zin-Shiraz first and liked the wine. The 24 per cent Shiraz mellowed the vintage and produced a smooth finish without masking the hearty rich flavors of the Zinfandel grape.. All three are excellent everyday wines with their $10 price tag. Winemaster Randy Ullom appears to have something good going with the Collage series.
The Pinot Noir vintages coming from the Central Coast keep getting better and better. At Edna Valley Vineyard Winemaker Harry Hansen has produced a winner in the 2000 Pinot Noir from their Paragon and Firepeak vineyards. One hundred per cent of the varietal the wine was aged in French oak. It has a lush aroma and rich flavors and an unusual smoky finish. And an alcohol content of 14.5 per cent.
Echelon has also released a 2000 Central Coast Pinot Noir. Winemaker Tom Westberg added 9 per cent Pitite Sirah and one per cent Syrah to this vintage which then had nine months in French oak. Lots of flavors here and a quality bottling priced at under $15. We tried our bottle with a Santa Maria styled barbecued tri-tip. It was an excellent match.
Tom Westberg makes a good Pinot Noir and while we don't like to brag this writer is a pretty good chef when it comes to Santa Maria barbecue.
Back to Table of Contents..
Last Update:3/1/02
&copy 2002 Joe Hilbers All Rights Reserved.
Graphic Design by Impact Graphics