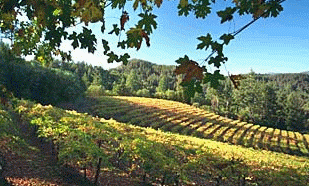 "Santa Barbara Appellation--Vines and Vistas Abound"
.. By Joe Hilbers
Sometimes normal events turn out to be memorable occasions. This was certainly the case when we were introduced to the new team that is now Demetria Vineyards and Estates. Owners are John and Sandra Zahoudanis. Sandra Zahoudanis was our hostess as we met with Winemaker Michael Roth and assistant winemaker Casey O'Rear at the lovely Zahoudanis home situated atop a commanding ridge with stunning views in every direction. In fact the surrounding 41 acres of vineyards are at the highest elevation of any in Santa Barbara County.
Sandra gave us a complete tour of the house which offers wondrous views from almost every room. The kitchen is the realized dream of every chef. While enjoying a sumptuous luncheon prepared by Sandra, Michael laid out barrel samples of some of the wines that have yet to be bottled.
We tasted Papou, Greek for Grandfather, which is the name for the Santa Rita Pinot Blanc. Bone dry it offers a crisp clean palate. The 2005 Chardonnay is named Gaia, for the legendary Greek Mother Goddess. We had to consult Gayley's "Classic Myths" to reacquaint ourselves with Mother Earth Gaia, (also spelled Gaea).
The 2005 Pinot Noir, to be bottled in January 2007, is named Cuvee Sandra and will be Reserve vintage. Michael uses all French oak for his wines and often prefers the large puncheon to the traditional barrel for aging. The Rhone varietals will highlight Demetria brands and proprietary blends.
All the wines are made from organic vineyards, some on the property surrounding the hilltop winery and also chardonnay and pinot noir vineyards in the Santa Rita appellaton.
Our excellent luncheon prepared by Sandra included a mixed green salad, Katamata Greek olives, rigatoni with a lamb ragout sauce, fresh baked bread and a delectable cheese cake for dessert. All with the barrel samples of Michael Roth. And with wonderful conversation which included unusual restaurants, skiing, surfing, cooking and, of course, the making of fine wines.
We left with the feeling that life is indeed grand in Santa Barbara Wine country.
East Valley Vineyard
Agreeing with this assessment is Dave and Sharon Dascomb. Dave grew up in the Santa Ynez Valley and his father, Don, planted one of the first vineyards in the valley in 1975. The varietal was cabernet sauvignon and the vines are still producing wonderful fruit.
After a career as an engineer it wasn't until 2000 that Dave produced his first wines. Under the brand East Valley Vineyard Dave and Sharon have directed their efforts on becoming a boutique winery concentrating on quality red wines. Their success to this end is proved by having their 2001 Syrah awarded 'best in State' at the 2003 California State Fair.
At our private interview with Dave and Sharon we had the opportunity of sipping and discussing some of their premium bottlings including a classic 2004 Pinot Noir from a vineyard edging Santa Rita hills near Lompoc. A Los Alamos vineyard produced their 2003 Sangiovese. We liked this wine for its soft, well rounded finish which Dave aims for in all his vintages.
The 2002 East valley Syrah is from Edna Valley grapes and offers all the intense flavors of this varietal that has enjoyed so much popularity with American consumers in the last few years. Sharon named their 2003 Fusionnay which is not a traditional blend being made with four red varietals. It has become very popular with East Valley wine club members.
Dave proves he likes to march to his own drum with a Port wine. The 2003 vintage Port truly impressed this Writer with its depth and smooth finish. Dave used 50 per cent cabernet sauvignon from his 30 years old vineyard and 50 per cent syrah in the wine. It is available in both 375 and 750 ml. East Valley wines are available either through their wine club or the Cabana Wine Shop in Solvang. For more information call 805 455-1412 or on the web at www.eastvalleywines.co.
Dave makes red wines with only one exception. His Mother, Mary Dascomb, likes chardonnay, so each harvest Dave, like the good winemaker son he is, makes his Mom one barrel of Santa Barbara County Chardonnay.
Back to Table of Contents..

Last Update:9/10/06
&copy 2006 Joe Hilbers All Rights Reserved.
Graphic Design by Impact Graphics