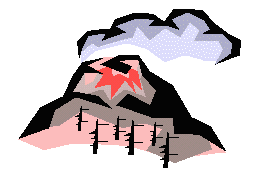 Washington State beckons for summer adventures
We have had many happy adventures in Washington State over a time span of three decades. We have visited Mt. Rainier on two different occasions for camping and hiking. Admiring the many different views of that truly spectacular mountain is a pleasure of its very own.
In the Fall 1998 issue of Vittles we wrote about Mt. St. Helens and the opportunities that exist for exploring this active volcano. Visitors Centers and viewing sites have been built by the National Volcanic Monument that show Mt. St. Helens as it was before the May 18, 1980 eruption, as it is today and how the surrounding countryside is recovering from the devastation.
In the Fall 1997 issue of this Newsletter we explored tourist attractions as well as dining and some Washington wineries in a story about Spokane. For anyone interested these articles can still be viewed on Vittles web page http://home.earthlink.net/~hilbers/.
So it was with great interest that we accepted a recent invitation to attend a press briefing and luncheon at the Century Plaza Hotel in Los Angeles. This was sponsored by Washington State Tourism as well as several Convention and Visitor Bureaus representing many parts of the State.
People from Washington State may not like the comparison but it is very much like California in the immense diversity of its geography. Like California it has a scenic ocean shoreline, mountain ranges like the Cascades, lone towering volcanic peaks like Mt. Rainier and Mt. Adams, vineyards producing premium wines, vibrant cities and some desert lands as well.
At the Century Plaza we had the opportunity to learn about many of Washington State's attractions for tourists. The visitor to Washington State has a huge selection in where to go and what to see. There is literally something for everyone.
To name a few there is the Boeing plant in Everett where you can watch a Boeing 747 jet liner being built; the Columbia River gorge; gourmet dining in Seattle; Grand Coulee Dam and the Olympic Peninsula and National Park.
Expanding on the diversity of the State we heard a folk tale by Mary Wahpat, Miss Yakama Nation, original poetry from Lon Minkler, a retired Mt. St. Helens logger, and a sea chanty by James "Flagg" Locke of Grays Harbor.
Before we left the Century Plaza Hotel that day we already had our destinations planned for this summer. We will definitely be visiting the San Juan Islands and Lake Chelan which is surrounded by the majestic peaks of the Cascades.
Back to Table of Contents..
Last Update:3/21/99
&copy 1999 Joe Hilbers All Rights Reserved.
Graphic Design by Impact Graphics