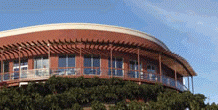 Temecula--Excitement reigns with new wineries, new owners and new restaurants"
By The Editor
Like you know, things are really happening in Temecula Wine Country what with new wineries, premier restaurants, and changes of ownership. To catch some of this new activity first hand we recently spent a whole day on show and tell.
Truly new from the ground up is Wiens Family Cellars with a complete winery, tasting room, patio and outdoor amphitheater for social and entertainment events, all of which was completed after a year of construction in October 2006. The Family, in the name of this winery, really does mean something.
Dave and Mary Wiens head this remarkable family which includes eldest brother, George the Architect, Doug Wiens as Winemaker and Vineyard Manager, and Jeff Wiens as General Manager and Joseph Wiens as Tasting Room Manager. Jeff Wiens was our guide as we toured the up-to-the minute barrel facility, which can be viewed through large picture windows from the tasting room, as well as the winery, complete with shiny new bottling equipment. The Barrel Room is also available for special events up to 50 people.
Next stop was Keyways Vineyard and Winery which we remembered as being small and quaint. Not so now. Terri Lee Pebley purchased the property to become the first woman winery owner in Temecula valley. And seemingly like magic there is now a picture perfect Tasting Room and meeting area surrounded by gardens, picnic grounds, gazebo and vineyards. We chatted with Terri Lee and was impressed with her enthusiasm and future plans which include designing some wines exclusively to women's tastes.
But there was still more to come. Briar Rose Winery is also new and the creation of Les Linkogle. The hilltop site was once home to a set designer of Walt Disney Studios and the whole place including the 'Snow White Cottage" invite a fairy book atmosphere. However the wines produced by veteran Temecula winemaker Mike Tingley are real enough. Briar Rose Winery is surrounded by 18 acres of vineyards growing six varietals. Les Linkople personally took us on a complete tour of the vineyards, a second picturesque cottage, which will be exclusively for VIP Wine Club members, as well as Snow White's house and garden grounds. Situated on a hilltop there are commanding views in every direction.
Construction was still apparent everywhere when we visited Briar Rose but at this writing all is complete. Briar Rose offers a much different experience for visitors than other Temecula wineries. Visitors must make advance reservations and will be limited to small groups.
Tastings will be conducted in sit down, small intimate groups in the picturesque atmosphere and decor of the surroundings. The wines we tasted were impressive. The Briar Rose 2005 Estate Zinfandel has just been bottled and for a young wine showed aroma and flavors true to the varietal. Briar Rose has been producing wines for some years but only now will visitors have the opportunity to tour the premises. Like the Zinfandel and most of the other Brian Rose wines the 2003 Cabernet Sauvignon we tasted was from the winery's own vineyards. We like the style of Winemaker Tingley who holds down the alcohol to around the 12.6 level. We noticed the smoothness of the wines in both the Zinfandel and the Cabernet Sauvignon.
A sure winner at Briar Rose is the Orange Muscat. There is sweetness but also a remarkable variety of flavors both in aroma and on the palate. Still in the barrel and for the future is a Briar Rose Sherry. For more information on Briar Rose Winery call 951-308-1098.
Still to come was our luncheon at the recently opened Pinnacle Restaurant situated hilltop adjacent to the Falkner Winery. Here we dined with Owner Ray Falkner who gave us a complete tour of the restaurant, downstairs barrel area and cellar dining room where VIP Winery Club members will enjoy conducted tastings. The Cellar Room is also ideal for small private parties.
After 9/11 Ray and Loretta Falkner decided they wanted to do something extra for the military and started a donation program of 600 cases of Falkner wines each year. This year the Navy League of San Diego recognized their generosity and commitment by naming them Community Affiliate of the Year.
Upstairs restaurant patrons are treated to views in three directions through picture windows with a Mediterranean styled cuisine created by Executive Chef Dennis Van Rumund. We were impressed with Chef Dennis who is a graduate of the Culinary School of New York and has enjoyed a long career in Southern California.
We first visited this hilltop winery almost 20 years ago in its early beginnings. Ray Falkner purchased the property in 2000, renamed it Falkner Winery and has never looked back since. The Pinnacle Restaurant is only the latest of the innovations that have been made since our first visit two decades earlier. The Tasting Room is large, open daily and on busy weekends must accommodate visitors on the spacious outdoor patio bar as well.
Winemaker Steve Hagata at Falkner has a 25 year career in Temecula Valley and there is a large list of varietals. Whites include a New Zealand style Sauvignon Blanc, single vineyard Chardonnay, Viognier, Riesling and Sweet Loretta, a blend of Sauvignon Blanc and Semillon named for Ray's wife, Loretta Falkner. Reds include Amante, a 'super Tuscan' styled wine with Sangiovese blended with three other reds. Also Merlot and Syrah as well as a 2001 and 2002 Meritage. Falkner Winery is located at 40620 Calle Contento in Temecula with the tasting room and restaurant open daily. For more information call 951- 676-8231.
On our most recent tour of Temecula wine country we noticed a trend toward making rose wines as well as dessert wines. At Keyways they have an exciting Amore Rosa which can be enjoyed either as a food wine or as an aperitif. Keyways is also producing two dessert wines--a 2005 Muscat Canelli as well as a distinctive Port handsomely shown in an unusual decorative package. We thought this Port and its handsome bottling was yet another way that showed the feminine touch that Terri Lee Pebley has brought to Keyways as Owner. Keyways Vineyard and Winery is located at 37338 De Portola Road which has in a short time become a second 'Wine Road' in Temecula. The elegant tasting room is open daily. For more information call 951 252-7889 or on the web at www.keywayswine.com.
The Wiens family with Doug Wiens as winemaker brought a good deal of experience with them when moving to Temecula from Lodi. The result is that Wiens Family Cellars offers a full line of varietal wines including some quite unusual, as the Wiens 2004 Cabernet Sauvignon Blush and a 2004 Malvasia Bianca. There is also a 2002 Cabernet-Syrah blend. Here again there are dessert wines--a vintage 2003 Ruby Port and a most unique White Port.
Wiens Family Cellars is located at 35055 Via Del Ponte just off Rancho California Road in Temecula. The Tasting room is open daily. For hours and more information call 951 694-9892 or on the web at www.wienscellars.com.
Back to Table of Contents..
Last Update:3/1/07
&copy 2007 Joe Hilbers All Rights Reserved.
Graphic Design by Impact Graphics