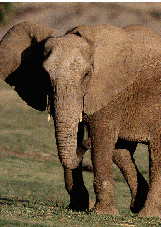 San Diego--"The Wild Animal Park is excitement and adventure for young and old alike"
By The Editor
The San Diego Wild Animal Park is a very special adventure for people of all ages. Here one views all kinds of wildlife sans moats, fences or other barriers and as close to their real habitats as possible. Our visit was on a fine Autumn weekday with a warm sun and fresh breeze and space to wander at will.
This is a place where you can climb aboard the Wgasa Bush Line Railway that takes you on a three mile, 45 minute trip that is a mini tour of an Asian Plain with waterhole, then East Africa with the animals that live there. Elephants, Asian and African, White Rhinoceros, a species that may never again be seen in their native habitat, many of the antelopes of the African plains and much more. For some, as endangered species, this may be their last refuge.
Rare Pizewatski wild horses from Mongolia, almost the last of the original wild horses, are here as well as the Arabian Oryx, rarely found at wild in its native desert habitat.
Afoot one can wander through the Mombasa Village, climb Condor Ridge to see the natural habitat of this giant of California birds and other North American wildlife. Or stroll through the Kopanda Falls Botanical Gardens. We went to Sylvia Straton Lion Camp for a truly close up view of these big cats and then to watch the antics of Gorillas in their daily lives. This Park is an adventure that demands a full day to enjoy its many attractions.
We lacked the time for the Balloon Safari where a 30 passenger balloon takes one high above the Park and plains with the animals in their natural looking environment. This was also true for the shows that include the afternoon Elephant Show or Frequent Flyers exhibitions at Benbough Amphitheater.
For young people there is a Petting Kraal to food and pet exotic animals as well as the Samburu Jungle gym and for summer days the Savanna Cool Zone where kids can cool off in a new water play area near Lion Camp.
Admission price includes the dramatic Wgasa Rail trip and most other attractions. The Park is about 30 minutes east of San Diego on Interstate 15. Ample signs will direct you to the Park. For more information and the many scheduled special events check the web at www.wildanimalpark.org or call 760 747-8702. At this writing the Park is open daily from 9 a.m to 4 p.m. Address is 15500 San Pasqual Valley Road, Escondido.
Back to Table of Contents..
Last Update:

&copy 2006 Joe Hilbers All Rights Reserved.
Graphic Design by Impact Graphics