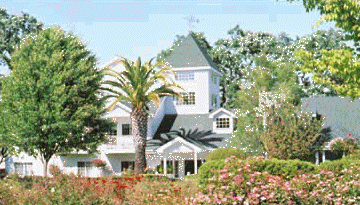 "Paso Robles--SummerWood shows very best of wine country"

by Joe Hilbers
Start with a sweeping vista of vineyards spread across rolling hills interspersed with ancient oak trees. Add a ultra modern winery and elegant tasting room. And mix this with a four star Inn offering sumptuous accommodations and you have the recipe for a delightful wine country experience.
Where is such a magical place? The name is SummerWood Winery and Inn located minutes from downtown Paso Robles.
The Winery is new, a state of the art facility which is the domain of Winemaker Scott Hawley. Scott came to SummerWood in 2000 with the enviable task of creating a new winery and making wines from the choice Central Coast vineyards that surround the property in every direction. Called locally the Templeton Gap the region, west of Highway 101 along Highway 41 that goes to Cambria on the Coast, enjoys its own unique micro climate and one perfectly adopted for the Rhone type varietals.
With all new equipment from presses to stainless tanks to barrels from many sources, Scott made his first vintages in 2001 and to immediate success we might add.
Not really surprising since Scott spent some years with well know Fetzer Vineyards and as part of Brown-Forman had the opportunity to travel widely and meet famous producers in other countries including France and the Rhone Valley and Australia where he worked with vintners that have made wines from the Syrah grip a fine art.
So the Rhone grapes, syrah, viognier, and grenache are emphasized here as well as cabernet sauvignon, malbec, merlot and cabernet franc. Currently SummerWood is also producing chardonnay and zinfandel, and very good ones too, but future vintages will concentrate on the Rhone varietals. Yes, he still has an outstanding Zinfandel Port which is aged solera style and this is so popular that Scott will continue producing it.
We enjoyed a remarkable barrel tasting with Scott and learned first hand the remarkable effects the wood in the barrel has on the wine. We tasted Syrah from two French oak barrels from separate sources. The exact same vintage clearly showed the subtle changes the different woods has on the wine.
At SummerWood Scott is producing wines that are literally hand made from the way the grapes are separated from stems and leaves before pressing to the fact that everything has been designed for gravity feed so no pumps are used in any part of the wine making operation.
The comfortable, spacious tasting room is part of the winery and visitors can look at the winery through glass windows while enjoying the product. The tasting room is open daily from 10 a.m. to 6 p.m.
For those wishing a longer stay in this part of California's paradise there is the SummerWood Inn, just a few steps across the road offering four diamond accommodations. The rooms can only be described luxurious, each with king size bed, fireplace, balcony and views of rolling hills, covered with vineyards, from every window.
Andrea Boatman is director of operations for both the Winery and Inn and has gathered an outstanding staff for pampering guests at the Inn as well as visitors to the Winery tasting room. Innkeepers Kristen Brown and Joyce Miller are there for any special requests of guests and Chef Charles Paladin-Wayne provides the culinary delights that appear in endlesss supply.
It was our good fortune to be a guest at the Inn and our room was appropriately named 'The Zinfandel'. Each evening in the spacious, homey front parlor Charles shows enticing appetizers carefully selected to match the SummerWood wines to be served. The evening we spent there chatting with other guests Chef Charles showed a perfect pate with both soft and toasted breads and a variety of cheeses. Charles willingly described each of them for us but we promptly forgot the names and origins. Perhaps we were too busy devouring them.
Like the rest of the people associated with SummerWood Charlie beings unique talents to his position as Chef. Of mixed Native American parentage he spent his early years on reservations in the Southwest. He moved into the food industry at an early age and through the years was chef and often manager of restaurants.
At Paso Robles he found what he wanted and decided to stay. So after three decades he came to SummerWood with the express design to educate guests to new foods and new ways of preparing and serving them.
This had led to the fine art of matching his creations with Scott's wines. And here Andrea Boatman has the whole staff taking part and providing imput. These are special training sessions where Charlie presents new culinary specialties and the staff tastes the wines with the food to show off the unique flavors of both.
Guests have the choice of five different unique entrees to choose from for breakfast, and these change monthly since staying at SummerWood is habit forming and many guests return again and again, often bringing new recruits with them.
Charles also presents several winemaker dinners through the year. These are held in the picturesque patio gardens adjoining the tasting room or sometimes in the barrel room. Generally limited to 50 people they include many Season Club members. Reservations for these gourmet extravaganzas are required far in advance with Club members enjoying priority. Guests asking for Charles' recipes is a regular occurrence and one he enjoys complying with.
Kristen Brown, besides her Innkeeper duties, also supervises the Season Club, installing new members and editing the newsletter Club members get on a regular basis.
The marked talent and efficiency of the staff is in marked contrast to the serenity that guests enjoy. For us it was a welcome respite form a somewhat hectic schedule.
Located exactly midway between Los Angeles and San Francisco the SummerWood complex offers a perfect retreat for people from both north and south. It also is a perfect headquarters for day trips to Cambria and Hearst Castle on the scenic Central Coast or inland to restaurants and shops in Paso Robles and the myriad of other wineries in the area. For outdoor enthusiasts Lake Margarita is only a short auto ride distant.
SummerWood Winery and Inn are located at 2175 Arbor Road in Paso Robles. Telephone 805 227-1111. On the web at www.summerwoodwine.com
Back to Table of Contents..
Last Update:<6/20/04
&copy 2004 Joe Hilbers All Rights Reserved.
Graphic Design by Impact Graphics