Africa--We enjoyed our safari but disappointed the lions
.. By James Woodin
Our Trip to Africa required about eight months of careful planning. The trip to LAX, through security and customs, on to Amsterdam, through security and customs and finally to Kenya and more security and customs seems to feel about another eight months.
To highlight the travel adventure we were treated to some of the worst concoctions, all totally indescribable items, to consume supposedly to add to the enjoyment of the flight. One could guess throughout the flight and never correctly identify the dark in color sponge glob that filled our plates several times during the flight. For no apparent reason it kept returning every few hours, different color combination, but the same yuk. Even the kids we constantly are bombarded with on television, homeless in some unknown country, wouldn't dream of getting near these would be delicacies.
However once we landed the events at the airport, customs and security, were quickly and most courteously attended to.
Africa, a third world country, and those that live there greeted us in English, more easily understood than spoken at your local seven-eleven. Our tour escort identified himself and our adventure began. I might mention at this point that the roads and/or highways are comfortable and smooth and we encountered several areas where improvements were under way. I might also mention that during our fourteen days in Africa, we spent no more then two hours on these roads opting instead for Mother Nature's gift for those on a safari, paths filled with troughs created by water running seemingly to nowhere. Potholes in Southern California make this terrain seem like the Grand Canyon. We bounce constantly and daily as we travel in search of the animals of Africa.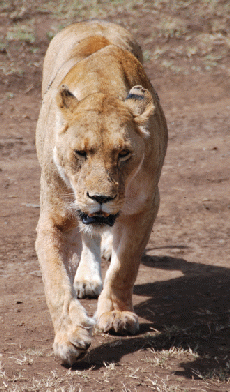 Our driver/tour guide spoke seven languages and had never been out of Africa. We discovered several dens of lions and their cubs, almost close enough to touch. Lions were observed almost everyday and at no time seemed intimidated by us. Actually they slowly moved around, sometimes blocking our vehicle and on one occasion were less then two feet from us. We were sitting on the top of our vehicle and the lion paced below.
Thousands of Flamingo's mingled in a lake created by a dead volcano. As they stood on one leg they made the massive lake appear a bright powdery pink. An elephant became angry as we entered his territory charging our vehicle as we sped backwards to escape. Zebras ran with us and Gazelles leaped so gracefully as they sped away from us. Baboons and hyena's appeared everywhere as did Wart Hogs.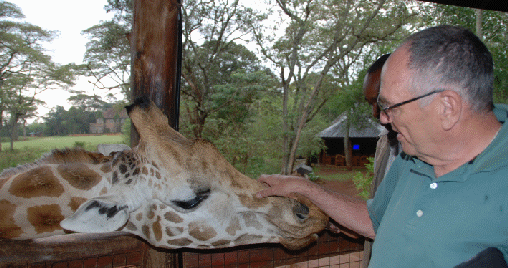 We silently cruised in a small row boat into a Hippo pool and it was reminiscent of the Disney Jungle Cruise. It appears Hippo's and Giraffes are the most dangerous animals. Hippo's get angry at almost everything and just one bone in the leg of a Giraffe weighs in at over twenty-five pounds and they have seemingly been trained in all forms of Karate. Because of civil unrest on the last day of our trip our schedule was changed and we wound up hugging a full grown Giraffe that gave me a kiss, twelve inch purple tongue and all. Birds abound and you see so many, all different colors, some picking on the backs of other animals, some enjoying a kill, while others floated silently overhead. As the sun sets creating a glorious picture of gold turning to the blackness of night silence abounds.
We eat dinner prepared at our campsite by our personal Chef. He also prepares a hot breakfast and a box lunch for our daily trips into the dusty plains. Lunch never changed the entire time we were there. A baked piece of chicken, an unknown pastry, boxed fruit juice, a banana, one hard boiled egg and a dark piece of something in the bread family that was wrapped carefully with the banana skin and egg shell and tossed.
Breakfast and dinner were always creative. Carrots were in season and appeared at every meal in one form or another. Cream of Carrot Soup was outstanding as were other Cream Soups that were freshly prepared daily. Eggs were always cooked to order, dry cereal always available, fresh vegetables and fruits every meal plus bacon and sausage for breakfast and various meats for dinner. One night we had old fashion spaghetti and meatballs. It was probably the best of these specialty dinners and they were all exceptional.
Our final meal was at a tourist trap restaurant and was part of our itinerary. The food here flowed like water from a tap, as you finished one entrée the next appeared and this went on and on for as long as we were hungry. They carved and served beef, chicken, pork, ostrich, alligator along with appropriate side dishes plus soups, salads and desserts.
The food, even the daily lunch special was above average and at all times better then most fast food places stateside. The Lizard crawling along the ceiling at breakfast, the snake crossing the floor at dinner, the housecats roaming the restaurant stopping to check out your plate were all part of the fun.
When darkness became a constant and silence became deafening was one of the most interesting times. Stars filled the sky and as the full moon appeared the landscape turned to a silhouette and on the far horizon, elephants animated the darkness as they moved across the nothingness of night.
Our beds were real queen size beds and our tent offered facilities better then some motel's (almost). We could order a hot shower and it would be ready when we were.
As we lay awake in bed we would talk and look at the days pictures and discuss, still with excitement, the events and encounters we had enjoyed. Then we would turn off the lights and as we began to fall asleep, we could clearly hear the lion passing our tent, feel the earth move as elephants slipped past, a hippo here, a zebra there, a Baboon yelling at our zippered door.
One must remember this is a third world nation, yet most all children at the age of two speak and understand English as well as their native tongue. You see cell phones everywhere and they offer better reception then here in California. You see families doing things constantly and kids playing and tending the family animals.
It is the beauty of the animals and the smiles of everyone we encountered that remain strong memories. They projected to this tourist a hope for a better tomorrow, but for today, we will not complain, we will strive and work without complaining because for all things can and will get better, especially for the children and the freely roaming creatures that demonstrated a calmness and beauty that have painted pictures in my mind that deserve to be experienced by everyone.
Back to Table of Contents..

Last Update:9/10/08
&copy 2008 Joe Hilbers All Rights Reserved.
Graphic Design by Impact Graphics