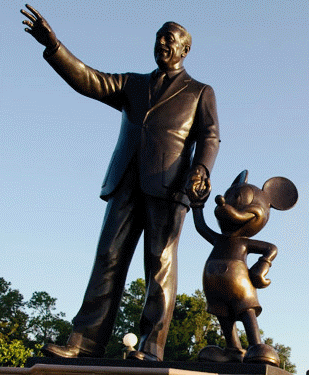 "Florida Disney World--It proved to be a very busy time"
.. By Jim Woodin
Part of my family was heading to Florida and I was invited to join them. The thought of family, the kids and enjoying Disney World was just too hard to resist so off I go headed to my final destination, Disney's Wilderness Lodge and Disney's Theme Parks. The actual Disney experience starts at the Orlando airport where travelers are greeted and directed, ever so friendly, to transportation (free) to your accommodations at Walt Disney World. There is nothing more fun or exciting then visiting a Disney attraction with kids. Through their eyes the world is a different place and the excitement of meeting the most famous mouse in the entire universe and his friends can be unforgettable when one is accompanied by children. Upon arrival I find my family has absolutely no plans to visit any of the parks…Hello, why tread families to Florida if your not visiting the theme parks…I'm told I'm much to old for such foolishness and I hung up the phone and that portion of visiting family came to an abrupt halt. Didn't see them there or since.
The east coast version of Disneyland, the park in Anaheim I grew up with, was to say the least disappointing. It lacked the excitement and the anticipation one experiences in Southern California. The weather was great but in less then three hours I became bored, walked threw the version of Downtown Disney and left there with the feeling it was geared for young adults and as I walked from one end to the other the only thing of interest was a permanent showcase for Cirque de Soliel. It by the way was closed for the week.
The next day I visited the Disney/MGM Studio Park. It actually blew me away. It was packed with people enjoying shows and attractions that you don't find out west. Indiana Jones had a stunt show and that was followed by another stunt show featuring some spectacular cars and drivers. Their Tower Of Terror was better then the one back home. It was longer and offered a thrill or two more. The fast food service in the park had long lines and they moved quickly. The salad was bigger then expected and the sandwich smaller, all self-serve and edible but nothing else.
The best was the various Disney operated restaurants. One was an incredible dinning experience, one good food and service, one so-so and the last a total disappointment. You are able to travel the entire Walt Disney World area via an easy to follow system that gets you anywhere quickly and efficiently without much frustration. And so we begin, our gastronomical journey, via Disney's transportation system. We went by boat, bus and monorail and every combination thereof.
We ate most breakfast's in the hotel—enough said. We did venture one day to Boma's a breakfast buffet reportedly with heavy African influence. The juice blend was amazing and most enjoyable but everything else was typical mid-range breakfast buffet. Nothing worth the travel time and I found nothing that might resemble anything special except a chutney that stood out because it was an interesting addition with no apparent purpose. My thinking…avoid it unless you want the same thing you can find close to home.
Jiko, another much heralded restaurant, like Boma, in the Disney Animal Park area, offered food with an African flair. Our forgettable appetizer was just that, but the short ribs were perfect. The staff was extremely polite and courteous except my waiter. I had ordered a glass of wine and he suggested a wine from Africa. Pardon the pun, but I was game. He presented the bottle, opened it and properly presented the offering. It was good and complimented the dinner. Again, I didn't find anything that I felt represented Africa on the menu and was more then surprised when the check came and my glass of wine was in the forty dollar range. Upon questioning, I found the glass of the wine selected and pushed by my waiter was not available except by the bottle. I had it packaged and consumed it with some cheese and crackers on my hotel balcony. My thinking…OK, nothing exceptional and nothing to truly write home about. The wine incident was a true negative with my waiter's lack of menu knowledge and his general attitude not called for. The overall staff was really great and friendly.
Next up, Flying Fish Restaurant. Here we found a waiting line, but found even with reservations, they moved you quickly and courteously. We were seated next to a family with 'little ones'. Three 'little ones'! Not to worry, the staff here catered to the kids as well as our table keeping them busy and extremely fast food service to their table moved them in and out quickly causing a huge smile on my part. They were seated after my party and we were on our second appetizer when they completed dinner and departed. The parents seemed pleased and as they should be satisfied with both food and service. The various appetizers we ordered were good with nice presentations. The ordered entrée's filled us and the dessert was such that we couldn't finish. My thinking…good food, good attentive service in a relaxed setting, perfect for the out of area visitor.
The adventure to the final restaurant began a week before the visit with a telephone call from the restaurant. They asked the full names of those in my party verifying the spelling of each and acknowledged our reservation time. They expressed their anticipation of our visit and told us they had a dress code that required a jacket and when I stated I was on a vacation they assured me they would have a nice jacket for me.
Arriving three minutes early we opened the door and were both greeted by name and introduced to our waiter. What appeared to be new jackets were presented and they fit perfectly Once seated in a true classic restaurant atmosphere, we were asked for a cocktail order and each presented with a large envelope with our individual name clearly visible through the envelope window. Opening it we found a personalized menu, designed exclusively for us, and as we studied it, we were approached by our server. She went over the menu, item for item, without notes and in the process described the preparation of each dish. She also explained the wine that was paired with each item and there were fifteen items on our Prix Fixe menu not including seven desserts. Our knowledgeable server suggested we not duplicate our order, but share, offering therein the opportunity of trying almost everything on the menu. Plenty of food and wine followed. We start with Seared Colorado Buffalo Tenderloin and Chorizo Crusted Tuna. Ballotine of Poulet Rouge with Duck Consommé and Pondichery Peppered Quail with Four Grain Pancake followed…four different wines so far. Alaskan King Salmon with Celery Root Puree and Crab Stuffed Tempura Squash Bloom followed with two more wines, mine from California. Entrée time found us enjoying Kurobuta Pork Tenderloin with a Bamboo Rice Blend and Marcho Farms Veal with Ratatouille Jam…score two more wines. If I remember correctly the next items were a Mixed Berry Gelato and a cheese dish with a great Port. Finally dessert. A Grand Marnier Soufflé and a Tanzanian Chocolate Pyramid Hawaiian Kona Chocolate Soufflé both served with Iced Tea.
This restaurant, Victoria & Albert's, located in the Grand Floridian Hotel offers and more importantly delivers the ultimate dining experience. Policy does not allow children but the price should deter those with children anyway. I learned, as we were escorted to a waiting cab, that our server and waiter had been at the restaurant for over twenty-five years, married and that the menu actually changes nightly which made my servers recitation even more amazing. As we were getting into the cab, clutching the personalized dining experience menu, they most delicately asked if I would be returning their jacket. My thinking…the return drive to my accommodations were forgettable, blame it on the wine, the memory of the exceptional four plus hour of fine dining is forever stored in my memory bank and falls into the must recommend and have to experience a second time category. Make sure you make reservation as far in advance as possible and then prepare to be catered to like no other place in the Magical World Of Disney.
Back to Table of Contents..

Last Update:3/1/09
&copy 2009 Joe Hilbers All Rights Reserved.
Graphic Design by Impact Graphics