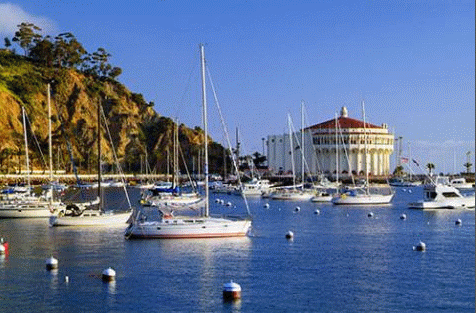 "Santa Catalina--Our Island Staycation was a big success "
.. By Joe Hilbers
It did not take us long to adopt the Catalina slogan, "Relax, You're on Island Time." In fact we were not on the Island even 24 hours before becoming a quick learner. Sitting on our personal deck at the Catalina Beach House overlooking the harbor and tranquil sea we remembered we had not shaved, then after some deliberation said, "why bother." This and where to have lunch were our big decisions for the day.
True we had planned this trip to Catalina, our first in a quarter century, to gather stories for Vittles. But then they began to appear almost without effort on our part.
Example One. We had dinner one evening at the Catalina Country Club. This club house and golf course was built by William Wrigley as a place of entertainment and relaxation for his Chicago Cub ball players who did their spring training on the Island each year. Here we heard an interesting story. Our dinner at the club will be the subject of a review in the next issue of Vittles.
In 1936 and again in 1937 a young sports announcer from Des Moines arranged to join the Chicago team for its spring training on the Island.
His name was Dutch Reagan and being personable, enthusiastic and with a gift for interesting conversation he soon became accepted and liked by the Cub management, coaches and players. In fact now and then he would suit up with the team for batting practice. The players knew he had what they called a 'slow bat' but it was all in good fun and the pitchers never threw him their 'good stuff'.
Also Dutch truly enjoyed Mr. Wrigley's stables where he could get a horse to ride the challenging trails and wild back country of the island.
Then in 1937 while still in California Dutch Reagan took a screen test in Hollywood which was most successful and so signed to a contract. The name Dutch was dropped and from then on it was Ronald Reagan. The rest as the saying goes 'is history'.
Example Two. Our stay at Avalon was at Catalina Beach House. We considered this a grand choice for the low key approach we brought to this assignment. On arrival we were handed a key by a pretty young lady who said 'enjoy". Our room, which included a spacious porch and deck, offered an entrancing view of the harbor while surrounded by the diverse architecture of the neighboring buildings some perched on steep slopes, seemingly defying gravity. It also had a large screen lcd-hdtv (which we ignored, no political ads this trip) as well as a complete mini kitchen with stove, refrigerator, dinnerware and utensils. Like the TV this we also ignored, no cooking for us this trip. However we definitely did not ignore the whirlpool tub.
But the Beach House is a fascinating story about yet another enterprising man of an earlier generation. It was in 1912 that Captain Joseph McAfee sailed his flat bottom houseboat from Venice Beach to Santa Catalina Island with the intention of making Avalon his home. He purchased a hillside lot on what is now Marilla avenue and then hauled his house boat out of the water and up the hill to rest on his newly purchased property. Reportedly using horses, logs and the help of friends he inched the boat up that steep slope to its resting place where it still sits today. As we lounged on our deck we wondered how he ever managed it. Perhaps in an earlier life he had helped built the pyramids.
It then became 'the Captain's Beach House' and over time the Captain added rooms for the tourist trade. He also is the man who built the first boat to show the Island's famous flying fish. Through the years the name changed a few times but recently the Catalina Beach House has enjoyed still another renovation as well as new owners. We chatted with Mindy Malan who now manages the hotel for her father, new owner Mark Malan. We complimented Mindy on the bright pleasant colors of our room and learned it was only completed with its new furnishings and decor one month earlier. The Catalina Beach House is located at 200 Marilla Avenue, steps away from everything at Avalon. For information and reservations call 310 510-1078.
Example Three. The Tuna Club has played a huge role in establishing Catalina as a paradise for the sport of game fishing. The most successful western novelist Zane Gray was one who came to the Island for the fishing, liked it so well, that he built a home at Avalon that still stands
The Tuna Club even enjoyed a role in the classic movie "Chinatown".
One prominent guest to the Tuna Club was Winston Churchill who was a visitor in 1929. Being Winston he wanted to find out for himself just what this marlin fishing was all about. He was only in the fishing boat 20 minutes when he hooked a 188 pound Marlin. And shortly after had it in the boat
Afterward he was heard to comment that he couldn't see what all the fuss was about with this fishing thing. Presumably he considered overwhelming his political opponents with his brilliant oratory in the House of Commons a much more interesting sport.
Example Four. Since our own dabbling in oil painting we have an increased interest in art galleries. In wandering the streets of Avalon we looked in on the Ruth Mayer Gallery. Here were exhibited an incredibly versatile collection of oil paintings, all by one talented woman. Ruth Mayer has had a Catalina studio for 60 years and her son, Reed, operates the Gallery. Most interesting is that in 2004 she was commissioned to paint a portrait of Pope John ll and this was completed and shown to the Pope at a private Vatican viewing. Reproductions of this painting are on view at the Gallery located at 116 Sumner Avenue. Also many examples of her work can be seen on her website www.ruthmayer.com.
If you have to travel on water, admittedly not our thing, the Catalina Express is about the best we have experienced in a long time. We departed from the Long Beach Express terminal conveniently located next to adequate parking. The Terminal is roomy, comfortable and the staff friendly. Once aboard the good ship Jet Cat Express we settled in at the Commodore Lounge. We recommend upgrading to the Commodore Lounge with amenities something like first class on a jet plane.
Snacks and a cocktail are complementary in the Commodore Lounge which also places one higher on the ship. On a calm sea with time to watch pods of dolphins we arrived promptly at Avalon exactly one hour after our Long Beach departure. The ships of Catalina Express also depart from San Pedro and Dana Point. For reservations and information call 310 519-1212 or 800 618-5533, on the web at CatalinaExpress.com.
In the next issue of Vittles we will report on what we learned on our Discovery Tours, our explorations at the Casino and the Catalina Museum as well as our dining experience at the Catalina Country Club.
Avalon is now a regular port of call for cruise ships and two arrived on consecutive days during our stay on the Island. One was the Paradise and the second Monarch of the Sea. We thought we could always identify the folks on shore leave from the ships. They were intense and anxious to get things done.
Not a bit like us locals who after all were "On Island Time".
Back to Table of Contents..

Last Update:9/1/08
&copy 2008 Joe Hilbers All Rights Reserved.
Graphic Design by Impact Graphics