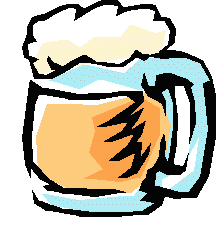 "Pasadena--The Yard House opens at Paseo Colorado"

by the Editor
It all started at Long Beach Shoreline Village in 1996. The Pub would be called The Yard House and feature more tap beers than most people had ever heard of. The concept took off like a rocket and so in November 2003 the seventh Yard House opened at Paseo Colorado Center located in Old Town Pasadena.
In Pasadena the Yard House shows a horseshoe shaped bar decorated with the tap handles of 110 brands of beer. In the mix with this array of suds is upscale food that comes out of the exhibition kitchen at a dizzying pace. Executive Chef and Partner Carlito Jocson has put together a menu that blends American standards with Asian flavors. He calls it American Fusion fare but the end result is fine dining in a bustling bistro style atmosphere.
Michael Kolden, general manager of the newest Yard House, likes to point to its emphasis as a restaurant serving an exciting cuisine to large groups of people.
When we say bustling we mean just that. In all that filling of 36 inch tall glasses of beer, and the comings and goings of servers with plates of delectables for hungry diners, is the continuous sound of classic rock music. All of which competes for customer interest with inescapable video monitors seemingly without end.
Besides all those brews the Yard House has a full service bar with some specialty martinis and a very well selected wine list.
The Yard House in Pasadena has a wonderful location on the second floor of the entertainment center that also includes Pacific Theaters and other top flight restaurants. It is a big restaurant with seating for 470 people. As appealing as the restaurant is the access with scads of convenient underground validated parking.
Chef Jocson shows some interesting creations on the 100 plus item menu. There is a ginger crusted salmon, wasabi mashed potatoes, a full range of pizzas, pasta and rice bowls and the list goes on and on. We had nothing but raves for our New Zealand Lamb chops as well as the seared sea scallops with came with the Chef's signature wasabi potatoes. We also tasted some excellent fried calamari and our dining partner loved the Miso Glazed Halibut which was accompanied with bok choy and jasmine rice.
The Yard House is located at 330 E. Colorado Boulevard in Pasadena and open daily from 11:30 a.m. to 1 a.m. with late night dining available. Other Yard House Restaurants are located in Costa Mesa, Irvine, Rancho Mirage and San Diego.
Back to Table of Contents..
Last Update:12/15/03
&copy 2003 Joe Hilbers All Rights Reserved.
Graphic Design by Impact Graphics