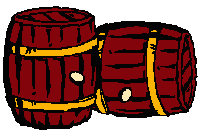 "York Mountain meets San Luis Obispo at Shadow Canyon Cellars Tasting Room" The Editor's Vineyard
.
When we visited the newly opened Shadow Canyon Cellars tasting room in San Luis Obispo we learned that their vineyards are located in the York Mountain appellation. This brought back some distant memories since decades before we had visited York Mountain Winery which then had the distinction of being the only one winery appellation in the country.
Now this has changed and besides Shadow Canyon Cellars other wineries are also sourcing grapes from this appellation.
We talked to Gary Gibson, owner and winemaker, as well as his charming wife, Armida. Gary told us about his vineyards on York Mountain and a dedication in aging his wines exclusively in French oak. Opening with his Voignier we then moved on to a Rose which includes 65 % Syrah and 35% Greneche. We appreciated the fact that Gary holds all his wines in the 14% alcohol range. Also we were impressed with his David Salvador vintage (named for his young son) which is a superior red with 49 % Syrah, 46% Greneche and 5% Viognier.
Shadow Canyon Cellars is located at 846 Higuera Street. Telephone for hours at 805 748-6358, web shadowcanyon.com.
In the Edna Valley we visited Claiborne & Churchill Vintners meeting Claiborne Thompson and his wife, Fredericka Churchill in their unique winery building which had been constructed of baled rice straw. The sixteen inch thick walls provide such good insulation that the winery does not need mechanical heating or cooling. Both husband and wife were formerly teachers at the University of Michigan and then decided that making wine in
California would be a much more rewarding way of life. Claiborne told us it was not easy but by 1983 they had produced their first cases of a dry Gewurztraminer and dry Riesling, both styled after the wines of Alsace. Since then the number of wines has increased with Chardonnay, Pinot Noir, Syrah, Cabernet Sauvignon as well Alsatian style Pinot Gris and a dry Muscat.
Chaiborne & Churchill Winery and Tasting Room is located at 2649 Carpenter Canyon Road, just off Highway 227 in San Luis Obispo. Tasting Room is open daily from 11 a.m. to 5 p.m. Telephone 805 544-4066, web chaibornechurchill.com.
We also visited Baileyana and Tangent Winery tasting room located at 5828 Orcutt Road in San Luis Obispo. Under the Tangent label all the wines are white varietals and we particularly liked the 2006 Pinot Gris from the Edna Valley and the 2006 Pinot Blanc from the Arroyo Grande Valley. Not many wineries still produce a Pinot Blanc but we like the grape for its dry rather austere qualities. Among the Baileyana red wines we tasted we particularly liked the 2003 Baileyana Red Blend Mosaico which included Merlot, Cabernet Sauvignon, Petite Sirah and Syrah.
The Tangent Winery tasting room is open daily from 10 a.m. to 5 p.m.. For more informatin call 805 269-8200.
Back to Table of Contents..
Last Update:9/1/08
&copy 2008 Joe Hilbers All Rights Reserved.
Graphic Design by Impact Graphics