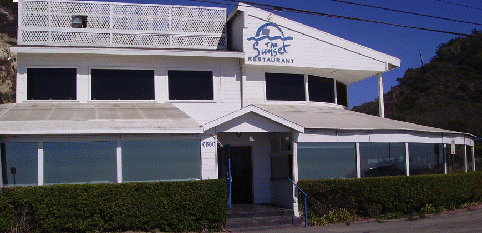 "Zuma--For beach side dining a visit to Sunset Restaurant has much to please"
by The Editor
Simply put Sunset Restaurant is a special event type of dining experience. Situated on a stretch of Zuma Beach, with superb views of the ocean from just about every seat in the house this is the kind of restaurant meant to celebrate that special occasion whether birthday, anniversary, new arrival or just the right place to slip a ring on your lover's finger.
The beachside cottage that is home to Sunset Restaurant has been many things through several decades but it has taken on a new look, decor, ambiance and most of all a thoroughly group of professionals to bring it to its current excellence. It all started when Rodolfo Costello and Franco Simplicio, already proven restaurateurs par excellence, took over the property five years ago.
Since that time there has been an on going plan to redesign and redecorate its bars and dining rooms as well as the kitchen staff now headed by a truly talented chef. Today it is all in place with Chef Jake Rojas showing what he calls a pan-European menu and cuisine. At street level there is an intimate bar and lounge as well as the casual but elegant dining room with almost every seat situated for viewing the ocean and sunsets.
On two levels upstairs the Sunset Restaurant offers 'The White Room". Accessible by elevator the room is elegantly furnished, offer spectacular views of the ocean and is available for private events. Weddings are especially popular since they can and often are performed on the sand with the ocean as backdrop.
Chef Rojas shows his culinary talents in grand style. Thanks to location great emphasis is placed on fresh seafood. A large chalk board displays each day's specials which can range from entrees like local halibut with Arugula pesto cous cous and heirloom tomato or filet of naturally raised beef topped with Foie Gras, pommes robuchon and locally grown veggies.
Managing partner Raymond Byrne oversees a well trained wait staff knowledgeable about the large selection of wines available. Since the restaurant sits at the heart of Malibu's wine appellation local winemakers are often on hand to present wine and food pairings one night each week. But the wine list is extensive and on the evening of our visit we had the opportunity to taste wines from Provence, Spain, Santa Barbara county as well as three Malibu vintages--a Merlot, Chardonnay and Sangiovese.
Our group of writers were treated to a taste treat that showed Chef Rojas's talents. There was Amuse, local lobster and roasted Poblano grilled cheese with a tomato bisque made from locally grown produce. Then a taste of the Sea with Kumamoto Oyster, Ahi tuna, wild Alaskan King Crab and Santa Barbara prawn cocktail. One of the restaurant's favorite appetizers is Sonoma lamb stuffed with Piquillo peppers with smoked Paprika. We then moved on to local Halibut and then the filet of beef.
Our dessert was a house made buttermilk Banna Cotta with Harries Berries, Marcona Almond and Basil Espuma. Here our wine was a 2004 Paconia late Harvest Pinot Blanc from Santa Maria Valley.
With owners Costello and Simplicio's Italian heritage in mind there is a truly authentic Spaghetti Bolognese, always a favorite on the popular menu along with such items as Oysters Rockefeller, heirloom tomato bruschetta, pan roasted salmon or sweet corn ravioli.
For what Sunset Restaurant offers in both location, service and cuisine prices are surprisingly modest with all entrees under $20. Popular favorites like fish tacos or mussels and fries much less than that. Oysters on the half shell, shrimp cocktails, king crab and mussels are always on the menu or available at the bar as appetizers.
The bar scene at this restaurant is jolly and since it attracts local professional musicians live entertainment is an weekly event. A talented bartender who could pass for a juggler also is an attraction to the bar scene.
Long popular with the local population of Malibu the management of Sunset Restaurant has now upgraded every aspect of its operation to attract people from Los Angeles and the Valley. We certainly concur that this restaurant makes the drive to Malibu and Zuma Beach worthwhile.
The Sunset Restaurant is located at 6800 Westward Beach Road adjacent to Point Dune State Park. It is open Tuesday thru Friday for dinner from 5 p.m. to 10 p.m.
On Saturday and Sunday from 11 a.m. to 10 p.m. and a brunch is served those two days. For more information call 310 589-1007 on the web at www.thesunsetrestaurant com.
Back to Table of Contents..
Last Update:12/15/09
&copy 2009 Joe Hilbers All Rights Reserved.
Graphic Design by Impact Graphics